When an individual is struggling with addiction, they have options regarding how they recover. They are able to choose from many different types of therapy and rehab. Art therapy is just one form of experiential therapy that is excellent for addiction.
Art therapy is simply an additional therapy tool used to help clients release emotions related to addiction. Alternative therapies like art therapy are used in conjunction with medical detox, rehab programs and recreational opportunities at quality rehabs near Houston, TX. It can be incredibly healing and helpful to many individuals.
What Is Art Therapy?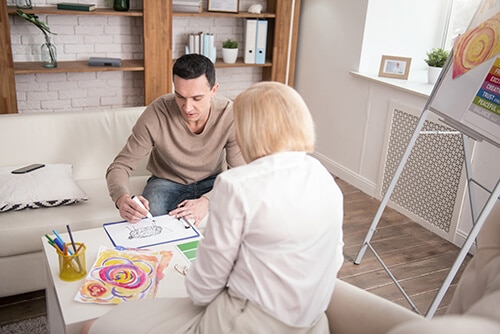 First, remember that this type of therapy can take many different forms. For example, students of art therapy may be asked to draw or paint their feelings. Also, because art naturally takes many forms, other options may include music therapy, acting, or dancing.
Fundamentally, art therapy is all about expressing yourself. It's about trying to get out what's deep inside you. Often, individuals in addiction treatment have trouble expressing their feelings. That might be because their beliefs may have been suppressed in the past. On the other hand, it might be because they are dealing with complicated, buried emotions.
Many times, traumatic events can cause people to bottle up their feelings and thoughts. Examples of traumatic events include the death of a loved one or serious illnesses. They also involve going through a harrowing experience like war or being witness to a traumatic event.
Where Can You Find Art Therapy for Addiction Treatment?
This form of therapy is not available everywhere. That is, many addiction treatment centers do not offer it.
Sometimes, treatment centers feel that art therapy is not beneficial. This is a specific choice made by the directors of addiction treatment centers. For some individuals struggling with addiction, it may be better to focus on other types of addiction therapy services. But if you are struggling with addiction or know someone who is, leave the possibility open. Many times, it is especially helpful for those who are artistic by nature. If you enjoy painting, drawing, or sculpting, art therapy may be the best form of adjunct therapy during your stay in rehab.
Writing is another form of art that is especially helpful. Writing can help anyone, and you don't have to be good at writing either. Just write down what you're thinking and feeling. The simple task of keeping a journal can help you get many of your feelings and thoughts out. Once they are on paper, you can see them more clearly.
Some thoughts and feelings may lose their power at this point. Alternatively, you may decide to think more about them. Or, you might choose to talk about them with your counselors.
Using Art as Therapy for Substance Abuse
One addiction treatment center that does offer artistic therapy is Kemah Palms. At Kemah Palms Recovery®, numerous types of addiction therapy are available, including art therapy. All of these are available:
Acupuncture therapy
Family therapy
Massage therapy
Yoga therapy
Meditation therapy
In addition to the alternative forms of therapy listed above, you can also expect other treatments at Kemah Palms. These tend to be more traditional in nature. They include:
Dialectical behavioral therapy
Cognitive behavioral therapy
Motivational enhancement therapy
One-on-one therapy
Group therapy
EMDR therapy
Relapse prevention therapy
Recover From Addiction With Art-Based Treatment in South Houston
Kemah Palms Recovery® could be the right place for you if you are struggling with substance abuse. Our treatment center puts a heavy focus on helping those with chronic pain as well as addiction. Many of our patients have struggled with chronic pain their entire lives.
Either way, when you struggle with addictive tendencies, chronic pain management can be extra challenging to deal with. This is because pain medications that are meant to deal with this type of pain are usually addictive. Generally, they are opioid-based. Some examples are Vicodin and OxyContin. These drugs should not be used regularly. But at the same time, how can patients deal with the pain? At Kemah Palms, we can help you.
And it is always possible to recover from an addiction. You can even start today and try art therapy while you're at it. Call Kemah Palms now at 713-568-1210 to begin.