Massage Therapy Addiction Treatment in South Houston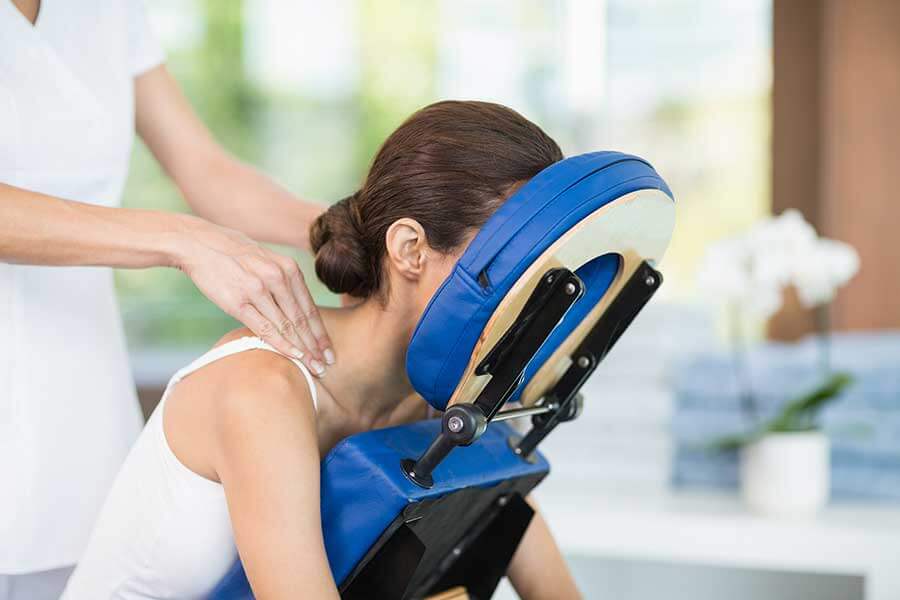 Most traditional therapies guide patients through the long, complicated addiction recovery process by focusing on the mind. However, massage therapy emphasizes the physiological symptoms affecting the body from drug withdrawal. Licensed massage therapists use their hands to stroke and squeeze the soft body tissues in a serene setting.
If you're struggling to break the vicious cycle of substance dependence, the healing touch of massages can assist you. Kemah Palms Recovery® may integrate massages into your treatment to fortify your strength for beating addiction.
How Does Massage Therapy Help With Substance Abuse?
First, the highly trained massage therapist will perform a brief interview about your medical history and chronic pains. This information helps him or her plan your seated or tabled session lasting 20 minutes to an hour. Next, you'll undress in private to whichever level of nudity you're content with. A sheet will modestly cover your body as the therapist begins rubbing the targeted pressure points. Comfort is the most significant priority, so essential oils are used to prevent friction, and a cushioned face cradle will support your neck.
Massage therapy is an umbrella term that describes many muscle manipulation methods though. For example, Swedish massages use light, long gliding strokes to work out the tension in a beginner-friendly manner. Trigger point therapy isolates muscle and nerves to release stress in one area for some chronic pain management. Hot stone massages place heated basalt along the back, arms, or legs for greater relaxation. Deep tissue massages are another favorite style where firm pressing stimulates the deepest layers of cartilage around muscles.
Massage Therapy During Drug & Alcohol Detox
The muscle discomfort felt during medical detox can be relieved at the hands of licensed massage therapists. The International Journal of Neuroscience found that massages raise the feel-good hormone, dopamine, by 31 percent. Therefore, kneading the body's achy muscles can relieve the stress of mild to severe withdrawal symptoms. Manually getting the blood circulating helps the immune system remove drug waste. Massage therapy during detox can also do the following:
Reduce anxiety and panic attacks
Release tension in stiffened muscles
Lower fast heartbeats and hypertension
Fight insomnia
Improve concentration
Alleviate nausea and vomiting
Stabilize your mood against irritability
Other Ways Massages Aid Addiction Recovery
Once detox is complete, massage therapy shouldn't stop because continued treatment helps sobriety long-term. It's an excellent chronic pain treatment method to ease discomfort without self-medicating again. The euphoric touch of massages activates the brain's same pleasure center to stop relapse temptations. Releasing these good chemicals lowers stress and increases positivity to better respond to other therapies. With bodywork, patients often report having more energy and vigor to handle addiction treatment challenges.
Frequently entering relaxed, meditative trances encourages you to become more self-aware of your body and emotions. For centuries, Eastern medicine has used massage to liberate bad feelings like anger, guilt, and grief trapped in tissues. Hand to skin contact helps build trust with massage therapists to express these suppressed emotions. Becoming attuned to pent-up sentiments that caused your addiction can significantly improve your progress.
Conquer Your Addictions at Kemah Palms Recovery®
Massages alone can't conquer addiction, but they're highly effective when combined with other treatment types. If you've been unable to quit substance use, Kemah Palms Recovery® is ready to personalize your recovery plan. Our high-quality, holistic Texas rehabilitation center uses multifaceted approaches to heal mind, body, and spirit. We offer many residential and outpatient strategies, such as:
Neurofeedback therapy
Medication management
Group therapy
Dialectical behavioral therapy
Nutritional guidance
Physical fitness and yoga
Acupuncture therapy
Don't let addiction hurt your physical and mental health any longer. Our friendly, compassionate staff can guide you on the road to sobriety. At Kemah Palms Recovery® we conveniently accept most major insurance carriers to cover an array of treatments, including massage therapy. Call us today at 855-568-0218 to discuss your next step toward a bright, drug-free future.