South Houston Drug Rehab Center for Men
Living with addiction is both trying and difficult. However, the decision to stop using and seek help is not something that addicted people take lightly. It takes a lot of courage. They want and need a smooth transition between addiction and recovery. For that reason, a top addiction rehab center in Texas like Kemah Palms Recovery® uses programs that fit specific needs. In the case of men, a men's drug rehab center sometimes makes the most sense for a variety of reasons.
Why a Men's Drug Rehab Center in South Houston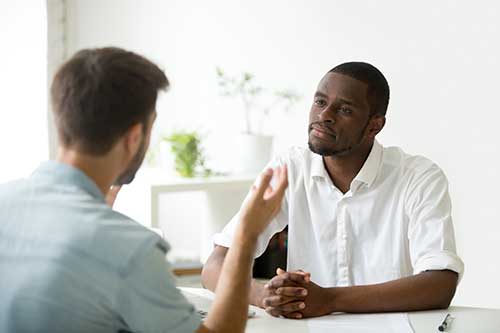 In every aspect of life, men and women handle things from a different perspective. We are talking about how men and women interact differently with problems out in the real world.
In the world of substance abuse, men have unique standing issues. They tend to become more heavily involved with drugs and alcohol for a variety of reasons. First, they seem to migrate to places where a lot of drinking takes place. That is, bars, pubs, sports events, and strip clubs. These are social gathering places for men to hang with other men. A common theme among these places is an emphasis on drinking and relaxing. Anyone who chooses not to participate is subject to having others pressure them into joining the group's activities. Constant exposure to social drinking is sometimes a step away from an alcohol use disorder. Any mens alcohol rehab program will quickly make that abundantly clear.
Another problem unique to men is their general inability to express emotions. This usually comes from societal pressures put on men to be "strong" and in control. This unwillingness to deal with emotional issues and stress sometimes causes men to internalize and seek refuge in substances, including alcohol.
The Benefits of a Men's Drug Rehab Facility
Unique circumstances sometimes require unique solutions. That's exactly what a men's drug rehab center has to offer–a unique solution. The objective of treatment in a men's drug rehab center is to promote participation from all patients.
Using experience as a guideline, counselors are aware that some men have difficulty opening up in the company of women. They seem to want to avoid what they would perceive as judgment from females. Some men also prefer to share with other men who are more likely to understand their gender-specific issues. By most accounts, that's a reasonable position for a male patient to take.
On the feedback side, men are usually better able to give useful feedback and suggestions to other men. It comes from being able to understand the circumstances the other men find themselves in because of addiction. Shared experiences can create a strong bond during the treatment process.
We would be remiss if we didn't mention the potential for sexual tension in mixed company. When people are vulnerable, their judgment becomes clouded. It would be easy for patients to confuse their common addiction illness as a reason for an attraction. Make no mistake about it, sexual interaction is an addiction treatment environment is destructive. As such, a men's drug rehab center eliminates the possibility of interference from interaction with the opposite sex.
First Class Rehabilitation for Men at Kemah Palms Recovery®
At Kemah Palms Recovery®, we put much emphasis on evidence-based as well as a holistic approach to treatment. We choose to do this because it offers us the ability to customize treatment programs for each patient easily. Here's a partial list of our treatment modalities:
Dialectical behavioral therapy (DBT)
Group therapy
Cognitive behavioral therapy (CBT)
Motivational enhancement therapy (MET)
Art therapy
Nutritional therapy
Chronic pain management
If you have concerns about seeking treatment in mixed company, Kemah Palms Recovery® has the perfect alternative. We have designed our men's drug rehab center around the needs of today's male. For more information, contact us as soon as possible at 855-568-0218. Through the right level of understanding, we can make your participation in recovery as comfortable as possible.
Is Addiction Controlling Your Life?
Conquer Your Obstacles at Kemah Palms Recovery®
Professionals are available 24/7 to help you or your loved one.
Contact us today to begin your recovery at our premier addiction treatment center.