Admissions to Our Addiction Treatment Program in South Houston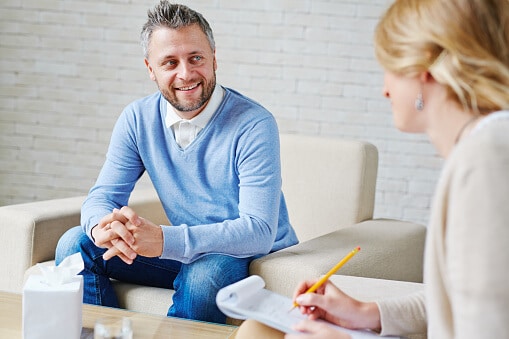 Taking the first steps towards treatment can be emotionally and mentally draining. At Kemah Palms Recovery®, we have designed our addiction treatment admissions process to remove the stress commonly associated with exploring and obtaining treatment. Our staff compassionately guides each individual through the necessary steps to facilitate their healing journey. An addiction treatment admissions coordinator will be available to talk to you every day of the year, offering you consistency, respect, compassion, and confidentiality.
The admissions process at Kemah Palms is generally is a five-step process.
Contacting an addiction treatment admissions coordinator is the first step, generally by telephone call 855-568-0218 or email at admissions@kemahpalms.com. At this time, we will discuss the individual's needs and collect medical, therapeutic, and family information to determine the appropriateness of the patient. Our foremost goal is to provide individuals with the most effective and appropriate recovery addiction treatment options.
Once it is determined that the individual will benefit from treatment at Kemah Palms, we will discuss financial obligations. We will explore all financial options with the individual and family, including self-payment, insurance verification, or financing. We believe every individual should have the access to the healing that they deserve.
Next, we will discuss the extent of care and level of family involvement. Kemah Palms is clear in the beginning that recovery treatment is the start of a lifetime of work and that additional treatment is needed whether that is extended residential, intensive-outpatient, aftercare, meetings, or individual counseling.
If an individual will be admitted to our treatment program, we will give them an overview of what to expect while in treatment, the expected duration of stay, and what they can bring when they are admitted to our program.
The final step in the addiction treatment admissions process is solidifying an intake date and secure travel arrangements so that the healing and recovery can begin.
Frequently Asked Questions About Our Admissions Process
Most private health insurance covers treatment of addiction and behavioral health issues. A financial coordinator will assist you in verifying your coverage to determine what your insurance will cover. If needed, we will arrange pre-certification of charges and file all necessary insurance forms on your behalf.
We are happy to work with you and your insurance company to ensure that you receive the maximum benefits to which you are entitled. If you choose to speak with your insurance company and begin asking questions regarding the extent of your coverage beforehand, the following information will be helpful.
We work closely with you and your family prior to admission, and throughout the course of treatment, to determine the most cost effective treatment to meet your unique clinical needs/requirements.
Please have your insurance card available when calling for information and always bring it to the Kemah Palms at the time of assessment and admission.
For more information, please contact us at admissions@kemapalms.com . Please provide us with any information concerning benefits that you have been able to obtain from your insurance carrier. We will also need the telephone number for your insurer so that we are able to obtain verification of benefits.
Also be sure to discuss the following with your insurance company:
Is there is a deductible, and if so, how much has been met? Are there any co-pays?
Is pre-certification required?
Do you need a PCP (primary care physician) referral (HMO policies only)?
If there is a maximum out of pocket cost and if so, how much has been met?
Is there a maximum number of sessions available?
Kemah Palms Recovery® is:
A private treatment center
Licensed by the Texas Department of Human Services
Bills for Residential Treatment, Partial Hospitalization, Intensive Outpatient (IOP) Treatment, and Aftercare Services
in the Blue Cross Blue Shield PPO network

Prosper HealthCare Lending is the premier financing company in the behavioral health industry. With over $5 Billion funded and over 300,000 loan inquiries serviced through their lenders, this is a name and a program you can trust.
Here are some of the benefits you'll receive with a loan from American HealthCare Lending:
Immediate decisions for loans under $35,000
Term options out to 84 months (affordable monthly payments)
No collateral required
No prepayment penalties
Fast & easy loan inquiry process
100% Confidential
Our facility is dedicated to maintain the privacy of your Protected Health Information (PHI). In conducting our business, we will create records regarding you and your treatment and services we provide to you. We also are required by law to maintain the confidentiality of health information that identifies you. We also are required by law to provide you with this notice of our legal duties and the privacy practices that we maintain at our facility concerning your PHI. By federal and state law, we must follow the terms of the Notice of Privacy practices that we have in effect at this time.
We will provide you with the following important information:
How we may use and disclose your PHI
Your privacy rights in your PHI
Our obligations concerning the use and disclosure of your PHI
The terms of this notice apply to all records containing your PHI that are created or retained by our facility. We reserve the right to revise or amend this Notice of Privacy Practices. Any revision or amendment to this notice will be effective for all your records that our facility has created or maintained. We post a notice in a visible location at all times, and you may request a paper copy of our most current Notice at any time. Kemah Palms is required to:
Maintain the privacy of your PHI
Provide you with a notice as to our legal duties and privacy practices with respect to information we collect and maintain about you
Abide by the terms of this notice
Notify you if we are unable to agree to a requested restriction
Accommodate reasonable requests you may have to communicate health information by alternative means or at alternate locations.
We will not use or disclose your health information without your authorization, except as described in this notice.
This is a guideline for what you will need to bring to treatment. It is recommended that you bring attire and personal items for up to seven days.
Personal Attire You Should Bring When Checking In For Treatment
Under garments
Socks and tennis shoes
Casual clothing (comfortable fit), including tops, jeans, and pants
Workout attire/gym clothes
Pajamas
Robe and shower shoes
Personal Items to Bring to Our Treatment Facility
Shampoo, conditioner, and soap/bath gel (unopened and alcohol free)
Deodorant (solid only)
Toothbrush and toothpaste
Razor and shaving cream
Optional Items You Can Bring to Addiction Treatment
The Big Book of Alcoholics Anonymous and/or any 12-Step self-help books that you have.
Notebook, pens, and stamps
Alarm clock
Phone card (for long distance phone passes)
Cash for incidentals – we will hold and allocate your cash as deemed necessary
We would like your time at our treatment center to be focused on learning tools and skills for life-long recovery. In our experience there are some items that may cause distractions for you while in treatment, so we ask that you do not bring these items with you.
Items You Should NOT Bring to Rehab Treatment
Credit cards
Cell phones
Personal television or radio
Cameras or video recorders
Hats, excessively tight, loose or revealing clothing
Aerosol or alcohol-based products
Food or candy
Is Addiction Controlling Your Life?
Conquer Your Obstacles at Kemah Palms Recovery®
Professionals are available 24/7 to help you or your loved one.
Contact us today to begin your recovery at our premier addiction treatment center.