Anxiety Disorder Treatment Program in South Houston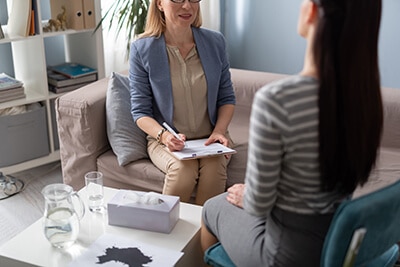 If you're living with anxiety, it can be frustrating. It is more difficult if drug abuse issues go with the problem. Kemah Palms Recovery® can help you end the cycle of drug abuse for good. Our anxiety treatment program in South Houston offers a dual diagnosis treatment center to help you get back on track.
When treating substance abuse, it's impossible not to consider a client's mental health. Anxiety is one of the most commonly diagnosed mental illnesses in the United States; it can be difficult to tell the difference between regular worry and an anxiety condition, especially if you've always been an overthinker. For this reason, we provide substance abuse and anxiety treatment at our anxiety treatment program in Kemah, TX.
Over 250 million Americans struggle with anxiety, and millions also try to cope with their symptoms by using drugs or alcohol. Some people may develop anxiety after they begin to experience substance abuse, fearing what their life will be like without it and panicked that they cannot quit. The mental health treatment center Kemah, TX trusts is here for you.
At our recovery center, we offer treatment for a variety of co-occurring mental illnesses and substance abuse. Your struggles are just one part of your story, not the final chapter. We're here to help you begin again.
Anxiety Treatment Programs for Multiple Disorders
Contrary to popular belief, anxiety is not a one-size-fits-all experience. While everyone will experience anxiety at some point in their life, anxiety disorders are an exaggerated form of normal anxiety that can dominate a person's entire being.
There are several different types of anxiety disorders a person may be diagnosed with. We offer treatment for all of these and more at our Kemah addiction rehab center.
We treat several anxiety disorders at Kemah Palms Recovery®, such as:
Generalized Anxiety Disorder (GAD)
Social Anxiety Disorder (SAD)
Panic disorder
Post-traumatic Stress Disorder (PTSD)
Obsessive-Compulsive Disorder
There are many causes of anxiety, and factors such as genetics, environment and personality play a role in how intensely a person may experience an anxiety disorder. While some may have wrestled with anxiety their entire lives, others only experience symptoms after surviving trauma or another mental health condition, such as a substance use disorder.
In addition to our anxiety treatment program in Kemah, TX, we also offer a variety of addiction therapy services in TX to help you overcome substance abuse.
At Kemah Palms Recovery®, we believe that recovery comes by healing from the past, living in the present and planning for the future.
Therapy Services For Anxiety
Anxiety can seem crippling, and it can make life very difficult at times. Some patients suffer from attacks, and it can provide a sense of feeling powerless over their lives. This can lead to drug and alcohol abuse. Unfortunately, abusing prescription drugs is frequently the issue that's common with anxiety sufferers. It's a tough scenario due to the almost inevitable substance dependence issues. Abusing benzodiazepines and alcohol are very common with anxiety disorders. The National Institute of Mental Health provides more information on anxiety disorders.
Since anxiety and substance abuse often occur together, a dual diagnosis program usually provides the best hope for recovery. The National Alliance on Mental Illness explains the benefits of dual diagnosis recovery programs.
Kemah Palms offers many types of therapy to help patients that deal with anxiety issues. These can include the following:
Group therapy sessions
Cognitive behavioral therapy (CBT)
Dialectical behavior therapy (DBT)
Motivational enhancement therapy (MET)
One-on-one counseling sessions and more
Treatment for Anxiety Caused by Chronic Pain
Living with chronic pain is a grueling experience that can quickly transform a person into someone unrecognizable. Health-related anxiety is normal for people who live in chronic pain, but it can make their lives feel even more unmanageable without proper intervention. An anxiety rehabilitation program aims to help people overcome their anxiety and get their life back on track.
We offer additional services to our guests, such as:
Texas chronic pain management
Back pain treatment
Medical detox program in Kemah
Withdrawal symptom treatment
Male and female-exclusive rehab programs
If you have become dependent on painkillers to manage your pain, our chronic pain management can help you reduce your pain while eliminating the need for prescription medication or other drugs. Regardless of how your addiction began, we have anxiety treatment programs and addiction services that will give you the skills you need to overcome it.
Our Kemah Palms Recovery® pain specialist, Dr. Flowers, can help you get sober without sacrificing comfort. It takes hard work and commitment, but we are here to support you.
Get Help at Our Houston Anxiety Treatment Center
Through our anxiety treatment program, you'll be able to better identify your symptoms and their triggers in a safe environment. Our supportive counselors want to make sure you feel comfortable every step of the way. We'll work with what you're most comfortable addressing first and build from there.
Each person's unique recovery goals will be considered a core part of their treatment while staying at our facility. We're here to help shape your journey, not define it.
Activities for Treating Anxiety
Depending on the specific program for your needs, you'll be able to enjoy many activities. We offer physical activities and relaxation therapies such as massage. Art and music therapy are also popular, and you'll be able to express yourself in new ways. Learning new coping skills to help you with anxiety is important. Making a solid effort provides great benefits. Alternative medicine therapies like acupuncture can also be helpful. Physical activities like yoga and meditation provide great relaxation and fitness benefits.
Kemah Palms Recovery® is in Galveston County, southeast of Houston, Texas. Our staff is familiar with the area and can guide those who are unfamiliar with Kemah. Residential programs provide accommodations for up to 100 participants. Chores and goals help to resemble life outside the program. A sense of community also benefits everyone in the program. A 12-step program is part of every recovery, and residents should try to participate. We offer other group therapy sessions that may also be a part of your treatment plan.
Anxiety and Addiction Help
If you struggle with anxiety and a substance abuse problem, you don't have to choose one burden over the other. At Kemah Palms Recovery®, we offer a multi-disciplinary approach to Houston substance abuse treatment and anxiety therapy.
Our skilled staff of medical professionals and addiction specialists are ready to help you start your recovery journey today. Contact Kemah Palms Recovery® to learn more today.