Family Therapy Addiction Recovery in Houston

If you or a family member is struggling with addiction let the professionals at Kemah Palms help you heal. We combine the most comprehensive evidence-based treatment with personalized service to treat the mind, body, and spirit. This holistic approach addresses the underlying issues at the root of addiction, rather than stately medicating symptoms away.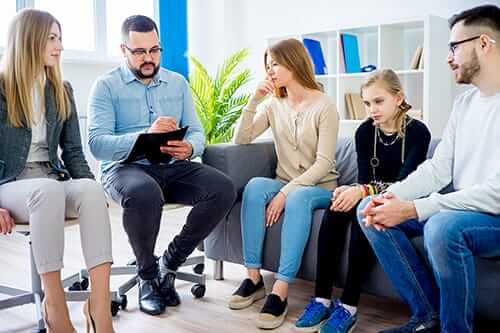 We often forget that drug users have family and friends. That should be enough for us to understand that addiction often comes with unintended consequences and collateral damage. What about family and friends? It must be difficult watching a loved one go through such a horrible episode in their life. That's why progressive rehab facilities like Kemah Palms Recovery offer family therapy for addiction. Aside from the patient, there are often other people who need to invest in the healing process.
About Family Therapy for Addiction
Family therapy can take many forms. In some cases, individual family members might want to submit to personal treatment to help resolve resentments and pain. Of course, the family also needs to meet as a group. This is the environment where everyone needs to put everything out in the open and begin working on issues. This is particularly important when family issues could be the cause of the addiction.
Clinicians use family therapy to treat two groups of family members. Any discussion here should note that the best Houston substance abuse treatment programs consider close friends as family. The first group of family members that might want/need treatment is the enablers. These are the people who felt compelled to turn a blind eye to what was happening with their loved one. Intentionally or not, enablers send the message that substance abuse is acceptable, at least to the enabler. If family approves or at least doesn't object forcefully, the addict has very little motivation to quit and seek help.
The second group of family members would be the people who have been hurt by the addiction. It may have strained relationships within the family to the point it became part of the addict's problem. Many times, it's clear to see the damage, whether it be emotional, mental, or financial. The level of hurt family members endure might be significant. It's the kind of hurt that needs therapy to heal.
The Benefits of Family Therapy for Addiction
Therapy at a drug or alcoholism treatment center comes in many layers. The family is sometimes part of the issue, but almost always a part of the solution. During and after therapy, the patient will need support mechanisms to stay clean. It makes sense that a patient should be able to count family members as one of their primary supports. The primary purpose of family therapy is to bring family members back together.
This kind of treatment is also significant because it gives family members insight into their loved one's psyche. A lot of forgiveness comes when family members begin to understand their loved one's pain. When they realize the addiction didn't arise out of spite, it's easier to let things go.
Finally, family treatment often unravels the mystery around the addiction. It's only when family members come together that surprising information might come to the surface. If family history is playing a big part in the addictive behavior, the patient needs to know it. Otherwise, the patient will never achieve the level of healing they need to avoid relapse.
Kemah Palms Recovery – Full Service Addiction Treatment
With the individual's best interests in mind, Kemah Palms Recovery offers a wide range of addiction treatment options in Houston. When needed, patients can take advantage of our in-house Houston medical detox program. When ready for therapy, our professional addiction treatment specialists will develop a treatment plan, using one or more of the following modalities:
Residential addiction treatment program
Intensive outpatient program
Partial hospitalization program
Chronic pain recovery program
Dual diagnosis treatment program
Following treatment, we will also make a selection of aftercare options available for each graduating patients.
If the struggles you and your family are going through are caused by your addiction, you need to consider getting help. In fact, the family unit might need family therapy. You can get that level of support at Kemah Palms. The first step towards your recovery should be a call to us at 855-568-0218. Our counselors and clinicians will work hard to help you learn the truth about your addiction. With the proper coping skills in tow, we expect you'll leave our facility with an excellent chance at a lasting recovery as well as restored family relationships.
We Accept Most Major Health Insurance Providers
Health Insurance May Cover the Cost of Treatment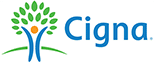 Frequently Asked Questions
It varies from policy to policy. Each policy is subject to its specific deductible, co-insurance, and out-of-pocket maximums. We invite you to reach out to our admissions team to verify your specific benefits and go over any expected out-of-pocket costs you might have.
Safe, Comfortable Treatment at
Located in Kemah Texas, just South of Houston, Kemah Palms Recovery offers transformative addiction treatment options with spacious accommodations and beneficial amenities. Our tranquil facility ensures clients can begin recovering in a safe and welcoming environment conducive to life-long healing.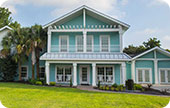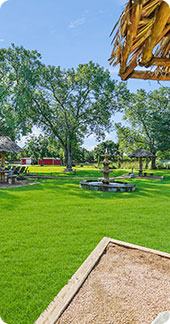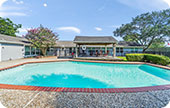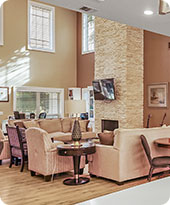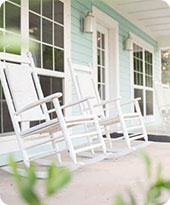 Is Addiction Controlling Your Life?
Conquer Your Obstacles at Kemah Palms Recovery
Professionals are available 24/7 to help you or your loved one.
Contact us today to begin your recovery at our premier addiction treatment center.