Life Skills Training for Addiction
Whether you suffer from a substance abuse problem or mental health disorder, it can oftentimes become frustrating and stressful to manage your symptoms. Since both addiction and mental health disorders are chronic and incurable, you must learn how to manage your condition in order to avoid allowing your symptoms to control your life. This is where life skills training can help.
When treating a mental health or substance abuse condition, medications can sometimes help with symptoms. For example, if you struggle with depression, prescription anti-depressants can help improve your mood. Medications reduce and alleviate some of your symptoms. However, even while symptom-free you must work to regain control of your life. Severe symptoms often lead to neglect of even the most basic life functions. In order for you to create a path for success, you often need to learn or refresh your knowledge on these skills. From cooking and cleaning to creating resumes and preparing for job interviews, a Houston TX life skills training program has answers for you.
These programs work alongside any other therapies or medications that you and your therapy team use. You and your doctor have to regularly review your symptoms and adjust doses when necessary. At the same time, therapeutic treatments like life skills training can drastically improve your ability to manage your symptoms. Incorporating life skills training and evidence-based therapies into treatment and an aftercare program in South Houston TX will set you up for long-term recovery.
What is Substance Abuse Life Skills Training?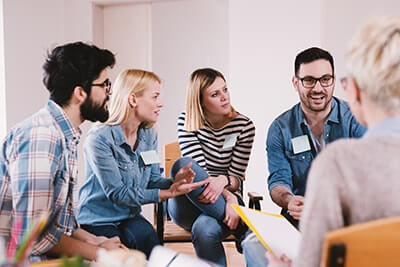 Life skills training is a type of evidence-based treatment. Evidence-based treatments are therapeutic techniques that have been proven to be effective with past patients after rigorous research and studies.
Other examples of evidence-based treatments include:
Dialectical Behavioral Therapy
Cognitive Behavioral Therapy
Acceptance and Commitment Therapy
Individual Addiction Counseling
Group Addiction Therapy
Peer-led support groups
Family and marital counseling
Specifically, life skills training focuses on helping you learn a variety of skills. These skills help you more effectively manage and control not only your symptoms but your day to day life. Taking control of your health means establishing healthy routines so you can be self-sufficient. To this end, you might also engage in a recreation therapy program and nutrition planning and diet advice so that all of your bases are covered.
Therapists help you learn to budget your finances, manage your time, and prepare for a job interview, among other skills. Life skills training can also include things like anger management and conflict resolution training.
Between parenthood, relationships, careers and family obligations, adults can become overwhelmed and stressed. If you never learned certain communication skills, it can negatively affect multiple areas of your life. Learning how to deal with difficult people and situations and share your thoughts in a diplomatic manner can help prevent situations that lead to relapses.
What to Expect at a Life Skills Training Program
Life skills training programs in South Houston TX provide therapeutic support and guidance for your various psychosocial needs. A life skills training program will evaluate what your needs and goals are and perform an assessment. The assessment will allow your treatment team to develop a personalized plan for treatment at a Houston addiction rehab. Most importantly, these skills will also help you long after you have left treatment.
Life skills training can focus on your goals. For instance, if you struggle to control your emotions in stressful environments, such as work, life skills training can help you learn to manage your emotions. Additionally, it can provide you education and support about conflict resolution. Improved communication skills, independence, and emotional well being are all goals and outcomes of participating in a life skills training program.
How Our Houston Addiction Life Skills Training Can Help
If you or a loved one is overwhelmed or finding it difficult to manage personal, employment, or financial obligations, a life skills training program can help you regain control of your personal affairs. These programs can improve your communication skills, ability to regulate your emotions, and increase your level of independence. Instead of feeling overwhelmed or stressed about events or interactions with others, healthy strategies provide you with the guidance necessary to handle stressful situations.
Kemal Palms, which provides the best life skills training and Houston addiction treatment programs, is here to help you regain control. To find out more about our programs and how they can help you meet your goals, call us today today.