Best Addiction Recovery Center in Texas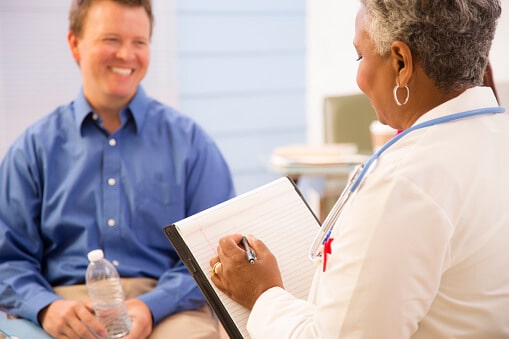 At Kemah Palms Recovery®, we've designed our Texas addiction recovery centers to meet the needs of each individual. Like every individual, each addiction is unique, and we've designed our addiction therapy services with that thought. A dedicated counselor and team of clinicians will take the time to understand your unique circumstances and needs. Afterward, we will develop an integrated recovery plan specifically for you.
What Do We Do at Our Texas Substance Abuse Recovery Center?
Generally, the first step will be a supervised Houston medical detox program. Before clients can transition into other addiction treatment programs, individuals must cleanse their bodies so that they can begin to heal not just their body, but also their mind and spirit. During the detox process, we continuously monitor the individual's safety and comfort as they experience withdrawal symptoms.
After detoxification, the therapeutic work of rehabilitation and recovery begins. Individual and group counseling sessions help clients unlock the deeply hidden causes of their addictions and help them address any psychological disorders. At our addiction rehab center in Texas, clients will have access to group meetings that help explain the concepts of the 12-step recovery process. They will learn coping mechanisms to help them survive stressors unencumbered and free of self-medicating. Also, individuals will participate in various physical activities will help make the body strong again.
Kemah Palms offers a plethora of effective therapeutic addiction treatment modalities, including gestalt, psychodrama, art therapy, yoga, massage, acupuncture, relapse prevention, and many more. Transition and aftercare are equally as important to the recovery process as the rehabilitation experience itself. At Kemah Palms Recovery®, we are here to support and guide each individual every step of the way to recovery by providing the most advanced and integrated addiction treatment programs. When it comes to addiction treatment programs in Texas, a full continuum of care is vital to a successful recovery. Aftercare provides the continuing support that is essential to a healthy recovery from substance addiction and abuse. At Kemah Palms, our Aftercare Program and Services prepares individuals who have completed any substance abuse program to enter the period of early and continuing recovery. This program begins immediately following treatment at our addiction rehab center in Texas, and it is critical to help prevent relapse and to keep individuals on the road to recovery.
What Happens After You Complete Rehab?
We provide a one-year, no-cost program of support, counseling, and referrals for individuals who successfully complete any program at Kemah Palms and remains in the area. Aftercare is a great way to get and stay connected to other alumni and a useful tool in sustaining long term-sobriety. Individuals in the Aftercare Program remain involved with others who are recovering, learn about support systems in the community, and form close bonds with people who are active in their recovery programs. The Aftercare Program includes weekly group sessions and case-management services.
Aftercare groups meet once a week for our individuals who participated in one of our Outpatient Programs (either the Partial Hospitalization Program or Intensive Outpatient Program). Also, individuals may attend this group if they have completed a treatment program at a different treatment facility, and they are determined to be clinically appropriate for the group.
Finally, Kemah Palms will happily help secure aftercare providers for those who no longer live in the area after completing one of our programs. As part of our comprehensive addiction treatment programs in Texas, Kemah Palms offers a one- to five-year monitoring contract for individuals who have completed treatment but need additional accountability and support to maintain their recovery. Our monitoring services are generally based on criteria established by professional licensing boards and corporate employee assistance programs. Monitoring allows individuals to have added safeguards in their recovery while alleviating the pressure that their families and loved ones may feel in terms of trying to manage their loved one's recovery and ensuring their continued sobriety.
While no program can guarantee sobriety and recovery, monitoring can offer additional structure and often times "intervene on" the relapse process before it progresses to substance abuse again. Monitoring services also help ensure compliance with continuing care recommendations.
Monitoring contracts include all recommendations made by the previous treatment provider, and treatment options suggestions from the individual, their family, and other involved sources as authorized by the individual (for example, a lawyer).
Our Post-Treatment Monitoring Program includes the following services:
Random Drug Screening—Individuals call into an automated system to see if they are randomly selected for a drug screening. Testing facilities and supplies are already pre-arranged. Our drug screens are among the most sophisticated tests available and any positive results are reviewed by our Medical Review Officer to verify the results.
12-Step Program Meetings—Individuals are required to verify all 12 Step Recovery Program Meetings, attend the required amount per week, and turn in documentation to the monitoring coordinator.
Sponsorship Verification—Individuals are required to have their AA/NA sponsor verify work completed in the program.
Aftercare Attendance and Other Counseling Services—Individuals are asked to give written permission for the monitoring coordinator to communicate with aftercare providers and therapists/counselors. Clients must document compliance with all counseling recommendations.
Periodic phone or face-to-face contact with monitoring coordinator at Kemah Palms
Positive Drug Screens and Non-Compliance with the monitoring contract are reported to those involved in the persons recovery (given there is written permission for contact).
Detoxification is the initial–and essential–step on the road to recovery. When an individual arrives at our addiction rehab center in Texas, our professional and caring team performs a full medical evaluation to confirm that an alcohol or drug detox program is necessary. If detox is required, an individual begins a personalized and medically supervised detox program to cleanse their body from all the toxins, giving them a clean slate physically, mentally, and spiritually. During the detoxification process, we continuously monitor the individual for safety and comfort, and the reduction of withdrawal symptoms.
Kemah Palms specializes in the detoxification of many harmful substances, including:
Prescription drug detoxification
Opiates
Anti-anxiety and depression drugs
Sedatives
Alcohol detox program
Alcohol abuse
Alcoholism
Drug detoxification
Cocaine/crack
Heroin
Crystal meth
Club drugs
Marijuana
Kemah Palms offers outpatient treatment programs designed for individuals who are motivated for recovery but do not meet the medical criteria for our Residential Addiction Treatment Program. These programs are a helpful alternative for emotionally or chemically dependent individuals who need intensive, ongoing treatment but not 24-hour inpatient care. We offer a Partial Hospitalization Program (PHP) and an Intensive Outpatient Program (IOP), and both programs can be used as a step down in treatment intensity for clients who have completed a primary treatment program like our Residential Addiction Treatment Program.
Our PHP is suitable for individuals who transition out of our Residential Addiction Treatment Program, yet still need continued structure and support while living at home in a stable, healthy, and safe environment. PHP generally lasts eight hours per day.
The Intensive Outpatient Program is suitable for individuals who are ready to return to work, school, or other responsibilities, have a support system, and can manage their medications. Treatment generally lasts three hours per day.
Both addiction treatment options adhere to the principles and tenets of the 12-Step Program, emphasize the importance of family involvement, and rely on proven clinical methods to help individuals make positive changes in their lives. While in these programs, individuals are asked to participate in the following activities:
Individual therapy
Group therapy
Family therapy
Educational classes
All groups are led by Licensed Addictions Counselors. Our clients are asked to attend off-site 12-Step Program meetings. Our Residential Addiction Treatment Program offers the highest and most comprehensive level of care. It focuses on both the physical and emotional stabilization of the client. This inpatient and live-in treatment program provides each individual with the knowledge, therapy, counseling, support, and tools needed to live a life free of substance dependency.
We teach our clients to make positive changes in their lives, showing them how to live free from drugs and alcohol, connecting them with recovering people in the community, and reconnecting them with their families. Our mission is to encourage individuals to discover that a spiritual life of recovery is one worth living. During our family addiction treatment program, we provide education and counseling to the families and our staff makes recommendations for the client's continuing care.
Our residential addiction treatment program includes:
Living on-site at the Kemah Palms facility
24/7 support, including medical
Develop sober living skills while guiding individuals through their personal and addiction issues
Opportunities to fully immerse individuals in the recovery process free of distractions
Participation in mandatory counseling sessions, including individual, group, family, and more
Participation in community and educational groups
Community mealtime, including three healthy meals and three snacks daily
Facilitation and integration into the 12-Step Program community
Understanding the reliance and importance of a supportive, healthy peer network
Recreational activities, including hiking, team sports, yoga, and much more
Therapeutic modalities that stimulate the mind and spirit, including meditation, art, music, and writing therapies
Once stabilized and fully engaged in treatment options, an individual becomes a candidate for transition into a less intense level of care, such as the Intensive Outpatient Program, Partial Hospitalization Program, and Transitional Living Program. The duration of treatment is dependent on the extent of an individual's substance abuse problem and their dedication to recovery.